We provide complete range of biometric time attendance and access control products inorder to enhance security . Our various product lines features the latest technologies in time and attendance systems , backed by our excellent technical support .
Maximus
Maintains the highest level of quality and reliability, not to mention the most robust employee time and attendance tracking terminal.
Biometric option eliminates costly buddy-punching.
Eight programmable function keys
Optional power-over-Ethernet module,transmissivecolor LCD ,GSM/GPRS modem,WiFi802.11 b/g WPA2
On-board diagnostics
Field-upgradeable
IT51
The terminal reduces HR administration by delegating tasks such as holiday requests and rota collaboration to staff, while keeping teams informed with corporate videos.
Quick and easy installation; reducing the time and cost associated with sending skilled personnel to a site.
Increase memory on the terminal instantly with the addition of an SD memory card.
Reduce the time and cost associated sending skilled personnel to a site when additional functionality is needed, by using the Assist IT platform.
ievo ultimate
Multispectral imaging technology
10000+ fingerprint capacity.
Spoof and vandal resistant.
Harsh external and internal use.
ievo micro
Superior optical sensor
10000+ fingerprint capacity.
Enhanced scanning performance.
Internal use.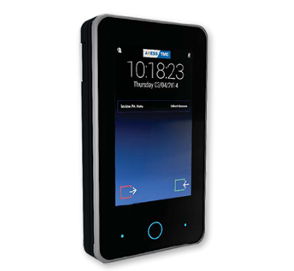 SuperGLASS 7
Capacitive touch screen display.
Ready to use device,thanks to the embedded T&A and access control application.
Fully configurable and manageable via web and compatible with the range of Zucchetti Axess X1,X2 readers.
Fully programmable in .Net Microsoft to meet any data collection need.
Server/client FTP connection for the automatic transfer of files to and from a server.
Multimedia functions: VOIP with video,playing of audio files,Text to Speech,video streaming on the web.
Long-life battery for operation during power outage.
SuperGLASS 4
Optional internal WiFi module.
Capacitive touch screen display.
Ready to use thanks to integrated time and attendance and access control application(Web Table Editor)
It can be configured and managed via WEB by means of standard and safe communication protocols(HTTP,HTTPS,FTP,SFTP)
Integrated FTP server and client with possibility to automatically transfer the transactions to a server for importing them into third party programmes.
External USB port to download timestamps (It can be used for password protected stand-alone systems)